Discussion Starter
•
#281
•
Soooooooooo, I was origionally going to mount the lights on the license plate holder thingy that I have been making....but.....I think I have changed my mind. I'll explain further down...
I wanted to mock up what the licence plate holder would look like, so grabbed some scrap cardboard and went to town: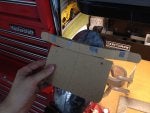 Traced it onto the metal plate (modified the mounting tabs a bit) :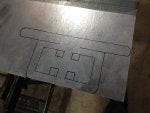 Then cut it out with the jig saw. This is the point at which I started to change my mind: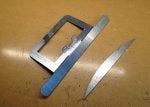 So the issue I am having is a simple one.....the setup looks awful lol. I hate how the light sits up so high and how the radius is too large. I made an even sharper bend but I didn't like that either as the support piece made the thing look huge, which is what I was trying to get away from.
So for now I will just keep the license plate on the holder. I have some ideas for the mounting of the lights and signals, but I believe the best option is to put them just below the rear hoop. Hopefully they don't rub against the tire but I have to do some measuring and whatnot to make sure. I'd put them on the hoop itself but will have a hard time with the LED strips sticking to the profile of the hoop. So yeah....back to the drawing board...again.