I have owned My Silver 1982 GL500 since new, currently has 53K miles - engine has never been cracked open.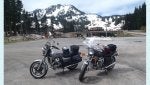 Mrs. SLiM's 1979 CX500 custom purchased as a $200 non-running pile of junk.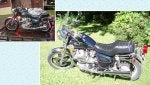 Unknown number of hours, replacement parts and dollars later. She love's it :loveeyes:
"The Thing" - 1980 CX500 Custom purchased as a $100 non-running rusty wreck, almost nothing but the titled frame was salvaged. It's called "The Thing" a FrankenBike because it's assembled from parts from 3 other non running bikes.
1983 GL650I, it Looked real nice on the outside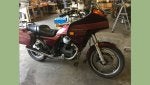 As it is now. Kinda looks the same except that it's running :drinks_smilie: , still needs some cosmetic work.