Discussion Starter
·
#1
·
Hello, everyone!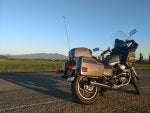 I purchased an '83 GL650 Interstate about two months ago, and while I love the bike, I'm just not loving that big, buzzy fairing, especially with how the windshield can cause serious visibility problems in humidity or rain.
I have a Vetter Windstar fairing that I previously used on my '81 Honda CM400A. and I'd really like to swap it onto the Silver Wing. I've made a mockup in Photoshop of what this might look like, and it only makes me want it more.
I located a Vetter bracket from an '81 CX500 on eBay, but I'm not sure I should buy it.
My question is: Can I use Vetter mounting brackets meant for the CX500, or will I have to have somebody fabricate custom ones? Has anyone here ever tried putting a Vetter fairing on their Silver Wing?
Thanks!