Discussion Starter
·
#1
·
Hello all! My name is Filip and I recently purchased a 1981 CX500 Custom off Craigslist. The previous owner told me about this forum and I have loved perusing these forums the last day; it is full of interesting information about these bikes. I felt as if this story and corresponding questions might be a good way to enter the forum.
Last year was the third year of searching for my first motorcycle. You see, I live minutes from Weirs Beach and the Laconia Bike Week. Furthermore, I worked at a beer and cigar store in the area for 6 summers. It all got to be too much after seeing hundreds of happy folks from all over the country coming in off there bikes. I always looked. I got sick of Harleys damn quick, even though my boss had a pretty rad looking Sportster. Long story short, through research I grew fond of bike from the 70s and early 80s. In the search, I was like Goldilocks. This didn't feel right. This was too big. Too rusty. Too hard to find parts.
Then I found it on the side of the road less than a minute from my house, laying by a fence on a back road I knew no one ever drove on. It was big enough to hold me (I'm 6'4, 260 lbs) yet small enough to not be intimidating as a first bike. It was a 1981 Honda CM400 Custom. It has 7600 miles on it. New battery. Ran great. $500 bucks.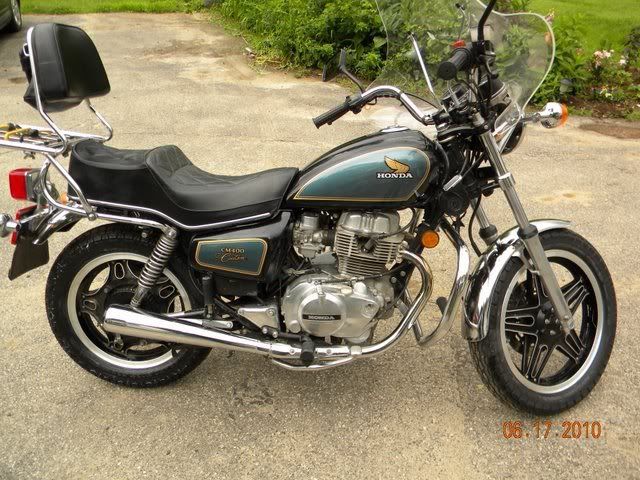 Ran even better after new forks, fork seals, rear tire, spark plugs. I didn't care because gas savings alone paid for it all.
I just passed 10000 miles on it just 12 months later, never driving it more than 35 miles from my house. If you have ever been to New Hampshire, particularly northern NH, you would understand why. Back roads rip through mountains and fields. Great views everywhere. Not t mention the fact that you have to drive 15 miles to get anywhere, and that costs me like 6-7 bucks in gas in the truck. The bike was everything Pirsig said it could be.
So my friend Adam wanted a bike. He looked at the CM with longing, wanting the freedom as well. This year he tasked me to find him a bike. He had a budget of $1500 but knowing what I learned about the CM, you need to account for some repairs and that you could get one of these bulletproof early 80s Hondas cheap. So I had jumped around CL for awhile. Wasted a lot of gas kicking tires. People here were just so into the Bike Week spirit they thought bikes were worth way too much.
Then, late yesterday afternoon, I came across a bike I had never heard of...or, more specifically, I hadn't heard of the CX series. I had just gotten so into CBs and CMs that they just flew under the radar. Up for sale was a 1981 Honda CX500 with 9200 miles on it. The pictures were not fantastic, but the real thing was beautiful. So close in trim to the CM that it made me miss my CM which was only 30 minutes away. I am sure you can realize why.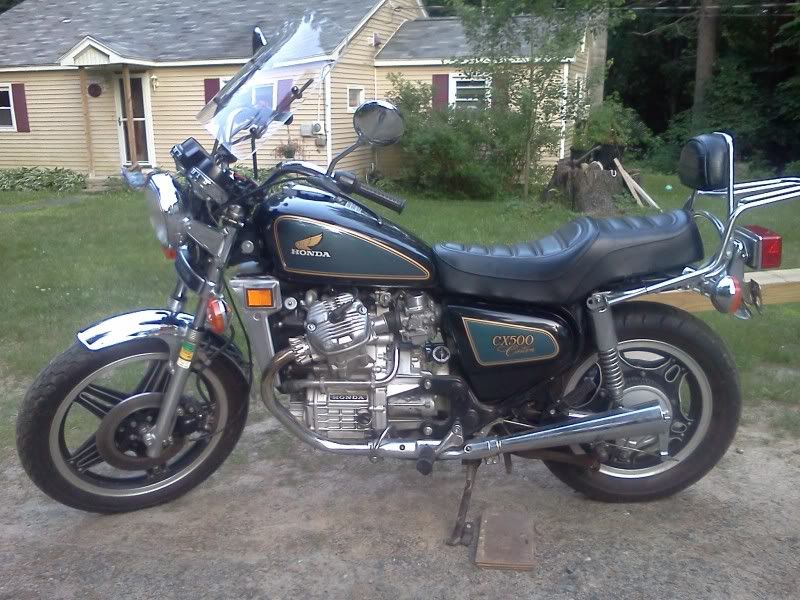 So I bought it for $700. Believe me, the photo doesn't do it justice. The seller could probably tell I was a bit enamored by the thing because I kind of kept staring at it. I can post some better photos when I get the bike tomorrow.
But this is the problem: I can't decide which bike to give my friend. Reading this forum has made me fall in love with the CX, but I still love my CM. All in all, they don't seem that different. I read the HP is about the same. The shaft vs. chain is pretty major. CX parts seem a little hard to find. Neither one of us are serious wrenchers, but we both would like to be. He is about to take the course and get his license. I have driven about 2500 miles in 12 months. Both run good, but the CX needs a coolant seal (?) and probably a tune up. (but i never buy any vehicle without expecting to put at least $500 into it).
GUYS! HELP ME DECIDE WHO SHOULD HAVE WHICH BIKE!
Sorry if I didn't provide enough info and will gladly answer any questions. I know this is a CX forum, so people are a bit biased, but then again it's still between me and a good friend so it's not like a big loss either way. Again, it's great to see such an active forum for such a specific bike. Thanks!