Discussion Starter
·
#1
·
I have broken every strap wrench I have ever owned.
I find them... inadequate.
I hunted around all afternoon for one that looked sturdy.
I gave up and come home to fabricate my own.
I took a cheap (about $3) NYLON tie down strap rated for a few hundred pounds. I think this one was 300 lbs.
I cut about 3 1/2 or 4 feet off the end. Feel free to cut more if you like.
I then took out the duct tape. I taped one side of the nylon to a large 1/2 inch drive socket. I think I used a 22 mm. Then gave it 3/4 of a wrap around the socket. I then put the other side of the nylon on the socket and taped it down for about 3/4 of a wrap around the socket. Be careful that you tape the ends down such that you do not have any twists in the nylon.
This gave me a very large loop taped to the socket. I then put it on the flywheel and twisted the socket until the nylon was tight. The nylon binds against the socket and against the flywheel instant cheap and strong strap wrench.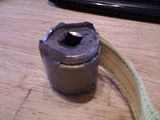 You say
"But what happens when you need to go the other direction? You need to have the flywheel tight while you take one bolt out counter clockwise then the opposite while you use your flywheel puller (20mm X1.5 pitch Subaru drain bolt)."
Yes but if you stick a 1/2 extension (shorter the better) in the front of the socket you effectively reverse the direction of the strap wrench.
Just a thought and it worked very well for me. Good luck to everybody.