Discussion Starter
·
#1
·
For those who have been following my triple bypass experience...I was finally able to get the starter motor off...using a large screwdriver as a pry-bar, I simply had to pry from a number of different angles, and one of them allowed it to come off like butter. Again, it was so simple when it came off. Don't know why I was struggling so much with this before. The starter connection grommet insulator that is found on the top of the starter motor is badly cracked...probably due to cold Canadian winters, or maybe heat build-up when cranking for lengthy periods of time. I'll need to source a new one prior to installation.
Also got the stubborn impeller cover off. Had to resort to a little "persuasion" with a rubber mallet and screwdriver near the top of the cover...which allowed a small area that could be tapped. Pretty clean inside. Even the rubber ring was in good condition - but it along with all gaskets will be replace on reassembly. That impeller has very sharp edges. You'd be made into mince meat if you ever got your fingers in there during operation!
Once the impeller was removed - just a small nut holding it onto a splined core - I noticed some corrosion on the back side of the impeller.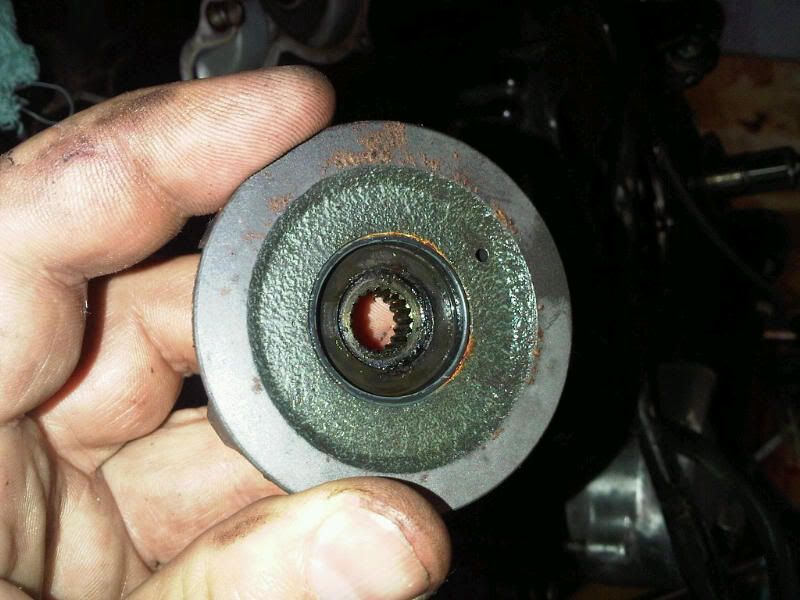 I was also challenged in removing the back cover. All the bolts came off clean except one which was heavily corroded. Still can't figure out why. Certainly all the close tollerances on this entire bike are a great comfort, however they can be somewhat consternating at times. When I was trying to pull the back cover off, the top of the cover was binding on something. What? I had to get creative in finding a way to get good grip on the back cover so I used a socket extension length, slid it through the mounting bolt positioning holes, pulled on that with one hand, and stuck my finger in the hole created by removing the starter motor. Kind of pushed and pulled in unison. Slowly and patiently, wiggle, jiggle, shift up and down, all over...presto...out it came. I was careful to put pressure on the shifter core, as I had read in other posts that it will often "bind" on the way out and disassemble itself. All good! However, for the record, the back cover was binding on what I'll call two coolant sleeves you see on the pics below. The first pic shows the sleeves properly seated in the engine block and I'm pointing at them with finger and thumb I'm not certain of the direction of the coolant, however one will send, the other will return. The second pic shows them in my hand. So it was these little things that were the tricky part in removing my back cover. Although the pic may show some discolouration, they are "clean".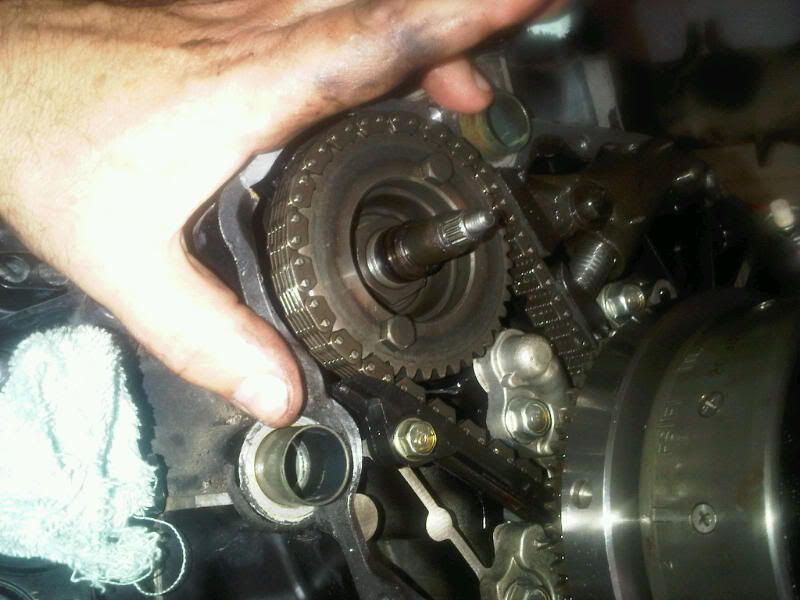 Coolant sleeves in my hand.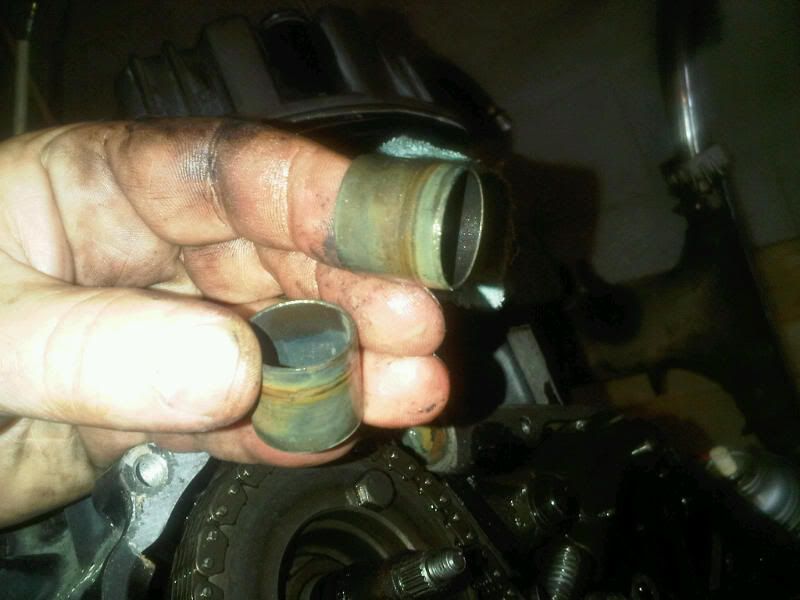 And of course, the cluprit!...the Stator which is attached on the inside rear cover. Please note how clean everything appears! Not bad for a 28 year old bike!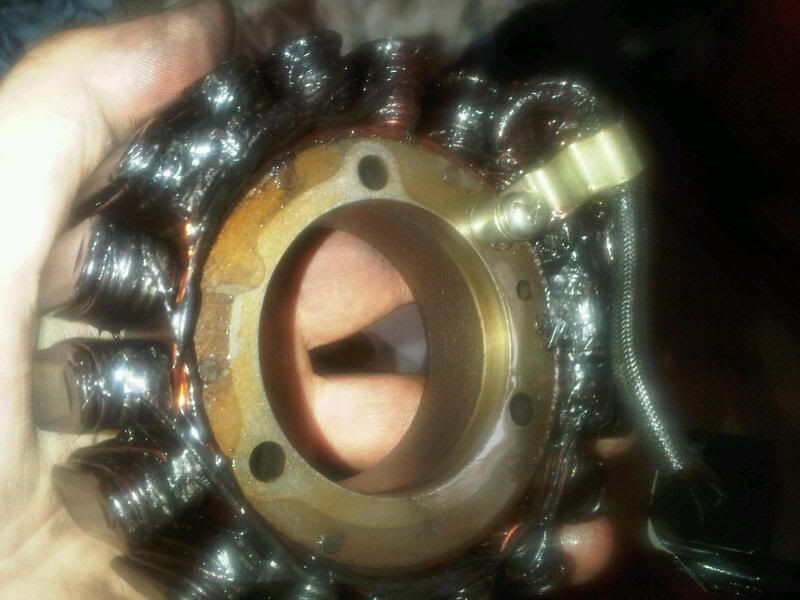 It's hard to tell what is not right, but it does look somewhat "toasted". Sorry for the clarity/focus on this one...I got a bit of grease on the camera lens...(how, I'll never know...lol)
And what in front of my wondering eyes appears?....a pretty clean engine! Actually I'm impressed with just how clean everything is. I do change the oil regularly, so I guess it pays off.For those who've never taken a back cover off, the large circular housing you see at the bottom of this picture holds the magnets which you can see attached around the internal circumferance of that housing. The stator which is attached to the inside rear cover fits perfectly inside this housing once you bolt it on. The magnets spin around the stator generating electrical current.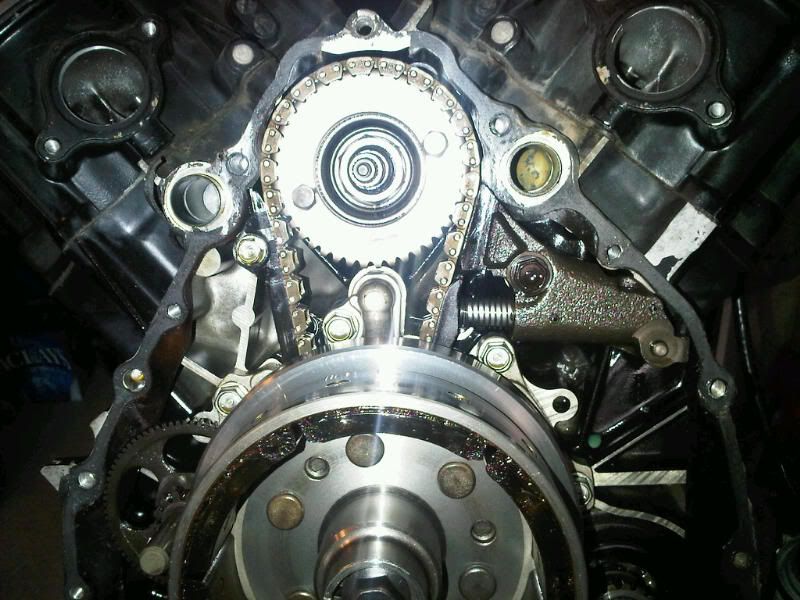 So to you guru's out there, I'm thinking everything is looking pretty good inside. The timing chain looks perfect to me. The tension adjuster looks brand new, like it has just rolled off the assembly floor. Certainly there is some crud around the impeller splined shaft that you can see. Don't know what's caused that and it looks pretty contained to the shaft itself. I realize I'll be replacing all the o rings and gaskets, etc. Let me know if there is something on this specific area I need to be aware of. I don't think I'll need to change anything else in here, just leave it as is. HOWEVER, your comments are appreciated. Perhaps I've overlooked the obvious.
OK...here's where I goofed a bit. With all the excitement of finally getting the back cover off, I was not careful when touching the starter motor engagement gear mechanism. There is some sort of spring mechanism allowing you to push that shaft in...and also out! I NOW know there are
two
tiny washers, one which rests on the front, but I am uncertain where the other rests. I will refer to the manual and also will look at a possible refubishment of the starter motor as well.
Also, I couldn't help but notice the very large portions of gasket that seem to act as an "internal shield" to possibly keep the oil spray down? Why do we need this large amount of material on the inside?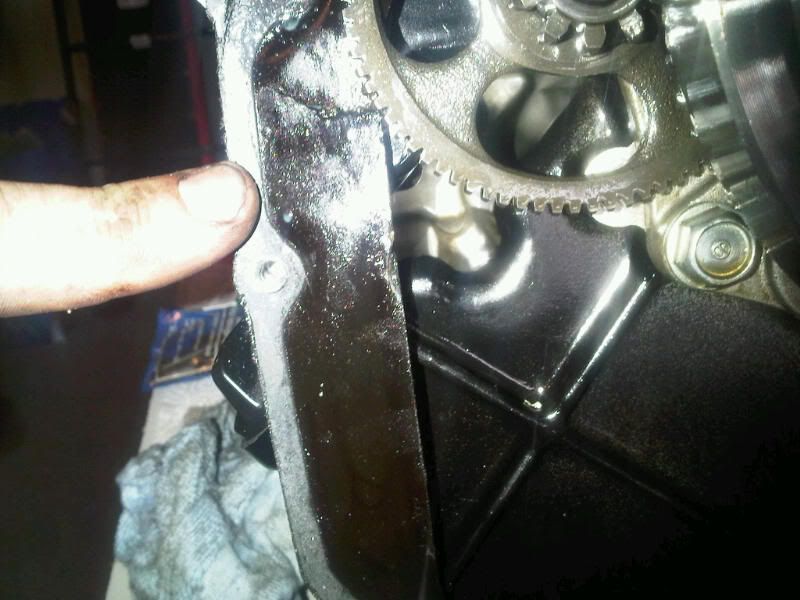 Hope you have enjoyed looking at these. I will attack the clutch tomorrow...with my Gator Socket...more pics then.
When responding with any comments - whch are always appreciated - please use the large blue REPLY button on the bottom of the thread and not the one that copies the message in its entirety...as this post is already long and will only get longer if it continually gets copied. Thanks!