Discussion Starter
·
#1
·
The engine is out and the rear cover is off.
I got everything ready to put the cover back on and in another thread everyone said "make sure it shifts before putting the cover back on"
So.... You see where this is going right?
I put the shift lever on and it will shift up one and down back into the gear it started from.
I tried lifting the clutch lever.
I tried turning the engine by hand and re-testing.
It has the exact same behavior.
I am not surprised. My KZ does not like to shift unless the engine is running.
I am posting pictures of the gears in case I have something wrong.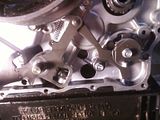 This is with it in the up and down shift positions.
UP:
Down:
Thanks again!
Y'all have been great!