Discussion Starter
·
#1
·
I'm starting to run up against the age of this bike. It seems they're common issues and I'm hoping that someone here can provide some insight. I'll start with the mechanical seal that I ordered which as it turns out is the wrong size, enlarging the opening scared me so I thought I'd try the Shep method: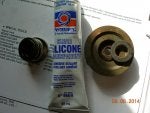 As you can see above some material from the new seal remains in the housing. My first question is whether this seal is now ruined? If not will the silicone pictured work to install it into the old housing?
Honda Motorcycle Parts 1979 CX500C A WATER PUMP + C.D.I. PULSER Diagram
I'm also not seeing number 12? Did it rust away? Or has the PO misplaced it? I'll move on to my concerns with the stator I received from RM Stator:
GENERATOR STATOR
This is with the bolt threaded in all the way.
It has the correct number of wires so I'm guessing it is for a CDI bike. If this is in fact the correct stator for this bike I'll just get some shorter bolts, does the orientation (rotation) matter? The other question I have is regarding the small o-ring for the oil orifice between the head and the block. I ended up getting the larger of the two sizes available from partzilla so I picked some up from a local supplier. The ones I have now are 7 x 1.5 not 6.9 (I'm guessing no big deal on this spec) but the material is NBR70. Can I use these o-rings? If so I'll be bolting the heads on tomorrow. Sorry for the long post, I just really want to clear these issues up so I can continue.
P.S. 12mm thrust washer for the shift lever? Anyone have a spare?
Thanks