Share your G8 Stator & Ignitech Conversion from a CDI model.......require some help
Hey all,
So yes, some of our current CX fraternity have been quite helpful in various ways about my project, however there is still some confusion on my behalf and due to this being my first major conversion and partial 'Triple Bypass' process I need more information and confirmation.
So.....I've had charging issues with my '81 CX Custom (Australian Model) and decided I would upgrade the Stator from it's current G47 & CDI setup to an Electrosport G8 Stator along with my spare Ignitech unit. My concern is, that no Forums or information I've researched has given me complete details about the whole conversion process. Through some recent helpful advice, I've managed to find out that even though the new Stator doesn't have new Pickups like the old Stator, was told that I still need to keep those Pickups to use with the new G8 Stator (the pickups are the two metal Hi & Lo Pickups mounted on the inside of the rear case). Originally my research didn't mention anything about needing to keep these when converting, nor have I seen photos that contained the G8 Stator, that also included these Pickups probably due to the fact that they were mostly photographed from TI Models I'm assuming.
My concern / issue is how to go about adding / including the (4) extra wires (2 for each Pickup) into the current G8 Stator wires and rubber grommet that Electrosport supplied?
Does anyone have any photos of their conversion process if they have done the same conversion? I'm needing some detailed info in hooking up the new Electrosport G8 Stator with the Ignitech unit.
Appreciate your help, and if you have photos would be a bonus.
Cheers,
Tyron
(Below is the new G8 Stator fitted - photo is tilted so Top of Box is on the right - Photo shows where Pickups were located for Right & Left)
(This photo below shows the current Wiring as supplied by Electrosport for the Stator - only the 3 pin White Connector with the 3 Yellow Wires and the Neutral Switch Wire that connects underneath the Engine and only One other wire 'Green' to connect)
(Below is just a photo of the old G47 Stator with the 2 Old Pickups still attached Left and Right)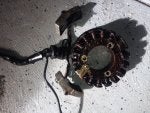 .....OK GUYS..HERE IS AN UPDATE OF WHERE I'M AT.......
So, firstly....appreciate the feedback and help so far but I do have to say I really need more detailed info targeted towards the G8 from Electrosport I bought and the Ignitech I'm about to connect. As for the reply below saying "why am I making it more difficult than it is".......well sorry sir, I'm obviously not as much of an 'electrical genius' as yourself. Things aren't just that obvious to me, sorry. And the last thing I want to do is risk stuffing my electrical system and creating more work and expense for myself, thus I want to make sure it's exactly right.
So here we go....... I've installed the new stator, kept the Pickups required that sit above the new stator and redirected the wiring for those through the new Grommet supplied with the new G8 Stator (to me, it was the best option). I've now have the Ignitech ready to install and I have installed another Ignitech to my other bike which still uses the old original Stator with Pulsar, however I'm a little unsure of what wires need to connect to what terminals on the new project here which consists of the G8 Stator and Ignitech. Below are the photos of the wires I need to connect, if someone knows exactly what goes where please do reply with some detailed info (i.e.: Blue Wire goes to Yellow for example) as this will be of great assistance to me, thanks.