Discussion Starter
•
#1
•
I'm a complete newbie to any type of mechanical work, so reading these forums has most definitely helped. For someone with little to no confidence in what i'm doing pictures and seeing someone else do it help a lot. So I figured I would start small and post about my results of cleaning my tank and sealing with redkote
Take the tank of the bike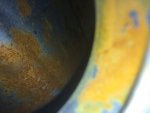 Initial view of rust. Some heavy stuff in patches.
After doing some reading, It looks like it is in my best interest and cheapest to buy some apple cider vinegar (about $4 a gallon from walmart). Plug the drain hole of the tank, I used alot of duct tape and a rubber plug, and brim the tank.
I let the vinegar sit in the tank for about a day, figured a longer time wouldn't hurt.
I then dropped a small piece of chain into the tank, Put the cap back on and shook to try and agitate the rust. Not sure how much this helped with the vinegar already working but lets just say it did lol.
Drain the vinegar from the tank. When i immediately drained the tank, I had a FANTASTIC looking inside, no rust at all. Vinegar worked great, However it started to flash rust almost immediately, I did my best to neutralize it with baking soda and distilled water. It helped a little but there was still some rust left over, not as bad as originally so I was happy.
inside of tank Post-vinegar bath and baking soda rinse.
I then let the tank dry for about a week, mainly because I was caught up with stuff at work and didn't have time.
Now time to seal the tank
I used Redkote for this, purchased on ebay for $25. A local powder coating place recommended it, and the internet supported their recommendations.
I first used some acetone to swish around the tank and make sure the inside was free of liquid/grease.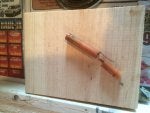 Also, don't be an idiot like me and forget to remove this fuel screen, then break it in half while removing it(also because I'm an idiot) and spend a half hour with a coat hanger trying to fish it out of the tank. Very frustrating experience.
Redkote smells absolutely awful, Strong smell of nail polish remover. do NOT do this inside or anywhere with poor ventilation
Plug the drain hole of the tank. Once Redkote was poured in, I used duct tape to cover the main cap hole.
Ok, we are now ready for redkote. I made a little stand out of a plastic bin and some wood to help collect the extra redkote(apparently you can re-use this stuff)
Drain stand
Dump about half the container of redkote into tank, Don't worry about putting to much, we will drain it out anyway.
SLOWLY tilt the tank around with the redkote in it, The point is to cover all of the surfaces. Take your time on this it is important.
Set the tank over drain pan and let the extra drain out. I tilted the tank a few times to try and make sure I got all this stuff out.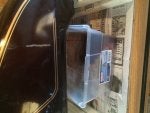 Draining.
I let it cure for an hour or two outside just to let the smell dissipate. However, since it is winter in PA and cold. I then moved it to my warmer basement.
Let it dry for a few days and you will be good to go.
Inside of tank immediately after coating with redkote.
And that's about it. Hopefully I helped some people. If you have a better way of doing this feel free to share, but I am happy with my results.
Thanks guys.