Discussion Starter
·
#21
·
Well, this is not good!
So I'm headed to bed and double checking the doors and such. Including the garage and this is what I find.
As you can see the tail light is on. It wasn't on when I closed up the garage.
And as you may notice, keys are not on the bike.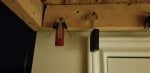 You'd think I'd notice that the the big ol' light was on. At least this might make it a little easier to diagnose the problem. Seems as if the tail light is hooked straight to battery. Hrmmm? I wonder how that happened.
Anyway, y'all have a good evening. And stay tuned for more exciting adventures of the now "Haunted, Mr. Ugly"!