Discussion Starter
·
#1
·
Hey guys,
First off I want to thank you all for all your knowledge and posts on here it has made my project go so much smoother ESPECIALLY the infamous Murray. Secondly I will be trying to keep you guys up to date on my build and my many hiccups I have already encountered along the way.
So here are the details
Name-Project SilverHawk
Model-1981 Honda GL500
Mileage-13xxx
Price- paid 1050 for her with a new battery
Needed- nothing but tires and an oil change when I got her she was well maintained by previous owner.
Apparently the previous owner backed into her in the driveway and lightly knocked her over. A few scratches here and there but no crazy damage. Tank was perfect besides a tiny ding. Crash bars were bent and turn signals were scratched up. (Found out later left side cover was split) all in all most were easy fixes and things I planned on altering later on down the line.
Hopefully the attached files worked. Photos from the day I bought her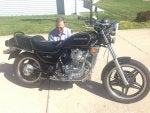 I will be updating this post with all my modifications an hiccups to come. Have already tinkered with her so be prepared for an onslaught of photos and descriptions. Thanks to all for future input and criticism. Ride safe friends.
Also. That's not me in the photo haha. That's the previous owner. It's just the first photo I have of my sweet sweet baby.