Discussion Starter
·
#1
·
I took off the rear engine cover to fix a slight oil leak coming from my weep hole. The little round rubber oil seal was ruined (looks like I accidentally squashed it at some point when I did my stator swap). Anyway, when I was wiping up all the oil I found two little parts hanging out in the bottom of the rear engine cover. I haven't the foggiest idea what they could be from and before I put things back together and find out the hard way. I was hoping one of you guru's could chime in. The first one is a metal cylinder measuring about 4mm x 16mm (also in my hand in the picture is the spacer that goes in the cam chain tensioner and a mysterious copper washer). The second is a long, skinny, and tightly wound spring. I have seen similar springs around the external fork seals on mountain bikes. But I can't figure out where this one could be from on my bike. Please help!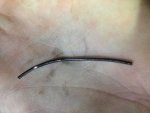 And just for good measure, here is the dead rubber oil seal:
sorry the pictures are so big.