Discussion Starter
·
#1
·
I inherited a very low mile 79 CX500 Deluxe, finally found a tank for it and I am now ready to start dreaming up my bike. I was initially attracted to the cafe bike but now I am leaning towards the scrambler look. I could use some help with determining the right parts, as I am a rookie in the rebuild world.
Here is my bike (thanks for the tank philbrewer!)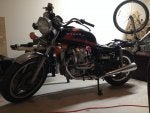 I really like the front end on this bike. Does anyone know the parts (headlights, bars, forks, triple tree, low profile turn signals, etc.) I would need to recreate this?
Also, I would love for everyone to share any and all their suggestions with me. For example - if you know a particular slim battery that is great, chime on in! As I mentioned, I am new to this and have spent hours reading through other threads trying to pull inspiration. I figure, why not just start one and see what you all think!