Discussion Starter
·
#1
·
Today was a very productive day! I got my motor completely assembled and put it back in the frame. I have spark on both plugs, and the starter is turning the motor. I did not have time to get the fuel line hooked up and fire it up. By the time I was ready to do that, I was exhausted, dehydrated, and running out of light. I figured it would be better to get a good nights sleep and not play with gas until I was thinking straight.
Hopefully, tomorrow I will get to hear her run. I am still wrestling with the h-box to get the old rusty end of an old muffler out of it. So, maybe by the end of the week it will be ride-able.
Here is a bad picture, but again, I ran out of light.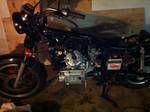 I do have two issues not related to the motor.
1. When I turn the key on, my front and real turn signals light up solid. I believe this is correct. When I turn a turn signal on, the rear signal flashes, but the front signal turns off. This happens with both left and right turn signals. What would cause this?
2. I put a brand new starter solenoid in. The old one did not work at all. The new one works some times, but does not work consistently. I have metered the start switch, and it seems to work, but the solenoid does not always click. Perhaps the switch is intermittent?
3. In the wire harness that comes from the stator, there is a single black wire with a terminal ring connector on it. What does that connect to? Is it just a ground?