Discussion Starter
·
#1
·
This is my plan for the month of August.
About 7500 km, leaving south east Saskatchewan on July 30th and returning here Sept 6th, right after Labor Day.
I have family at 3 of the stops and some old friends at several of the others. Hope to stop in and see Larry's shop when at the southern tip of my trip, and if any problems arise I hope I can limp the bike to the steps of his shop.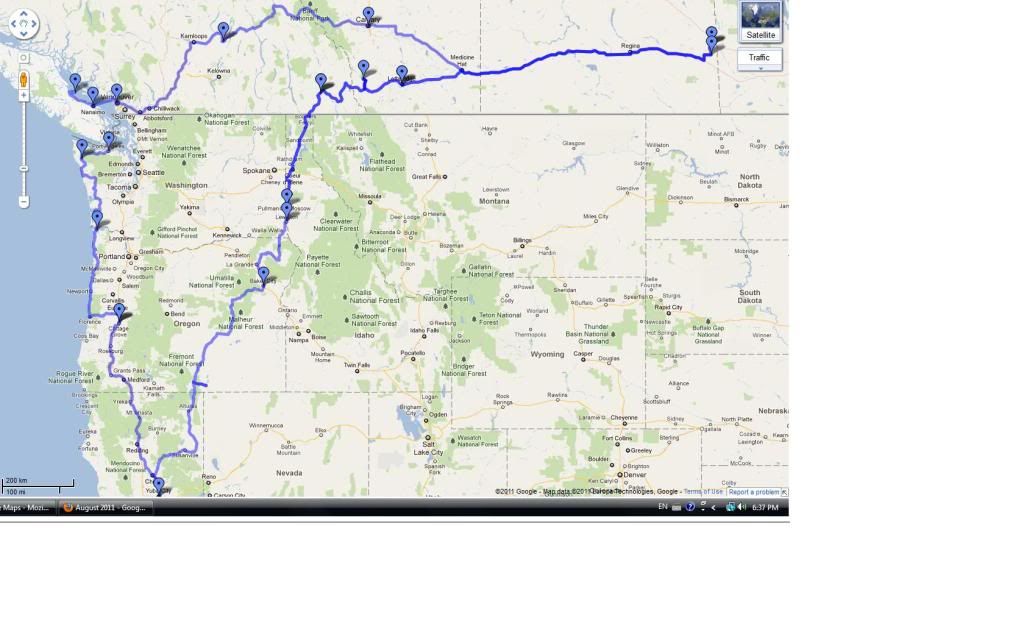 Any one have any sites along my route that should not be missed??
Also does anyone have a recommendation of an online map to use? The common ones are great for point A to point B guidelines and directions but as a trip planner I am getting frustrated.
Have tried Google Maps as well as MapQuest but because my trip involves over 50 waypoints I find that it is hard to manage. Plus I often take less direct routes to see more of the countryside so I have to keep throwing in different stops to guide the route which make it difficult to manage. I am convinced there is a way to make trip planning much more easy than I have experienced so far.
P.S. The leg from Sacramento to Eugene Oregon shows me following the interstate but I plan to travel roads between I-5 and the coast, (ie California Highways 96, 36, 299 and such). Again I am just having a hard time forcing Google Maps to take me where I want to go.