Well figured I might as well start a thread for my new toy, since I have a history of keeping things for a while and working on them.
Well here it is 20 minutes after I brought it home.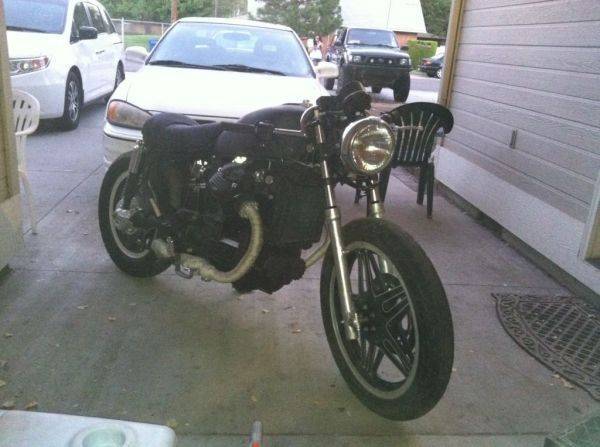 As you can see, i cheated and bought a bike that was already modified. I should have known better than to pick up somebody else's project though. After submitting all the paper work to get the title sent to me, I made a list of things I needed to get done to make it daily rideable, at least in my own inexperienced mind.
Derust gas tank (done)
wire in tail lights (done)
mount seat (done)
clean and secure under seat wiring (done)
install front brake (done)
fix rear brake
check and fill fluids (done)
flush radiator (done)
get new bolts and misc things (done)
replace fuses (done)
adjust clutch (done)
weld in rear cross member (done)
mount fender (done)
install mirror (done)
cap frame ends (done)
rebuild forks (saving for winter time)
there were more things that I had to do that I just worked along the way.
This is where I was at today.
Unknown to me, I actually had most of the front brake parts, even though at first I thought I was missing almost everything. Took quite a bit of work to get those pistons out though! They were seized in there. The only thing im really missing for the front brake system is the spring in the caliper.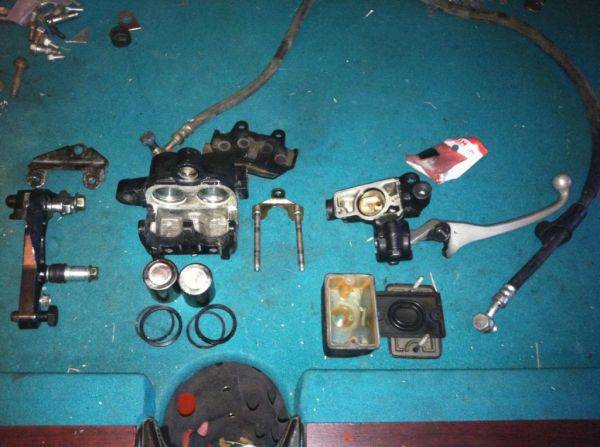 I need to order a spring, a new seal and boot kit for the caliper and a MC rebuild kit and give the MC a good cleaning along with polishing up the pistons and I should be good to throw it all back together.
I then moved onto mocking up the rear fender. This is about where I want it to be, as far as sticking out goes, and it will sit a bit lower when its done.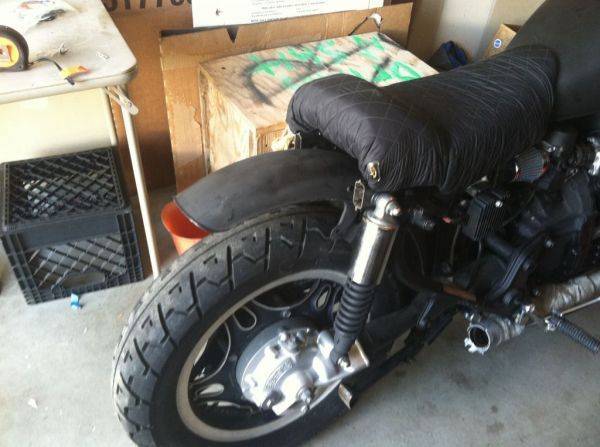 Have to come up with a creative mounting design, and I am actually pleased with what I have come up with. My plan is to cut the cross member that was chopped, then I shaped it to the fender. Im going to make the fender bolt to the cross member, then when I have that square and I know where I want it, im going to weld the cross member back into the frame lower down the frame in a new location
also I of course need to cap the frame ends to keep it from rusting, so im taking some scrap of the old frame, cutting it roughly to the same size as the frame end, and am going to weld it over the hole. Then grind it down to match the odd shape of the frame.