Discussion Starter
·
#1
·
I was younger and naieve and bought the story of "if it's under 50 cc's, you don't need an endorsement." Enter my Lifan 49.5 cc scooter. Great mpg, I live super close to my work, and affordable. Long story short after taking it to work once and around the block/ around town many times I was done with it. The main road on my way to work is fairly heavily trafficked and after experiencing my interactions with said scooter I was iffy on it. Did some talking to people, and then enter my need to look things up all the time. In Illinois, you need an endorsement from 1cc all the way up. The exception to this is if it's under 50ccs AND had pedals. There is no either or- it must fill both of those requirements. So MoPeds get by without endorsement. Dealership wouldn't take it back, claiming still no endorsement was needed (they don't sell scooters anymore) and rather than fight with them, I sold it outright.
Figured I needed the endorsement anyway and was tired of waiting for Troy's schedule to free up (already missed one summer waiting) I signed up by myself and took the class, had the endorsement put on my license. Little more than a year later went on Craigslist for giggles, found a 1982 GL500 that was going for $900, and everything but the horn worked. Talked to the guy, went to look at it, and 2 weeks later was bringing home a GL500 for $675. The ball fell off of my cartilege ring and I took the bike to the tattoo shop where I know the owner, Wolf, from working @ JC Whitney- in order to get a new ring. Pulled up among a bunch of Harleys and as I entered the shop he says "Nice bike"- we get to talking, and his wife wants to go out and see it. I get the ring, we go out and start discussing the bike and this forum..... with some seat options discussed. He said he'd look in his garage and see what he had. I got a call the next day to come take a look at a seat he had brought in so I took the bike and met Troy up there where Wolf had a seat from a Road King that was juuuust about perfect, just mounted differently and was a little shorter on the sides. Bought the seat for $125 and Troy welded up the necessary modifications needed for it. In the meantime started taking the bike apart to redo the dated and faded paint. Painted it black, found the luggage rack and saddle bags I want, (found a leak in the gas tank and fixed it via welding and sealing) and took the black body pieces to a friend of Troys' family who does great paint jobs... just for flames and clearcoat. He's a perfectionist and my first attempt at painting wasn't up to his specs (I really didn't think it looked bad...) so he said he's redoing the black before the flames go on.
Found silver and pink for the flames, found matching pink marine grade vinyl for the fairing pocket cover. Waiting to get it (back) put all back together and go out.
~MK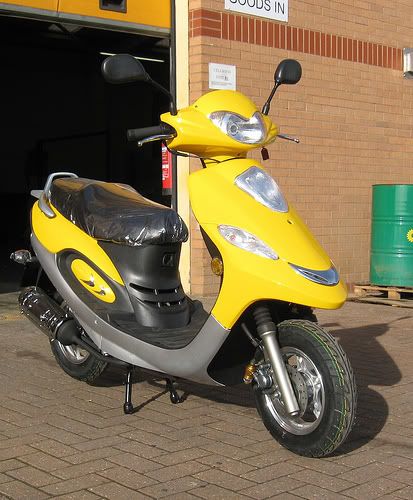 not mine, but that's what it looked like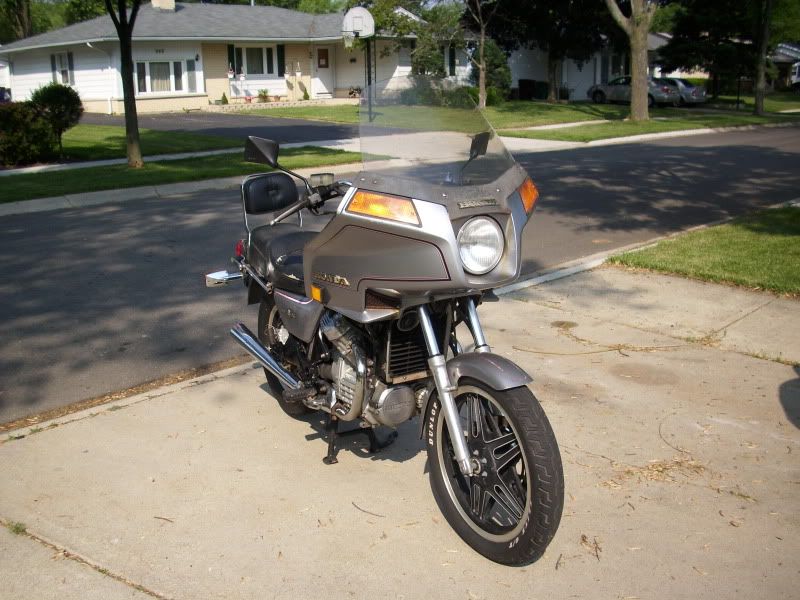 What my bike looked like the day we brought it home