Discussion Starter
•
#1
•
I've connected my cables every way possible to get the throttle working properly but one way when I connect it, the cables are too long and lose, and even one popped out, and the other way I tried, I couldn't get the last cable in because it was too short, maybe I'm not doing this right so I'm gonna attach pictures to see if any of you guys can explain this to me.
The cable with the blue on it is the push cable I'm assuming because when i twist the throttle that cable back, that cable pushes out further and the other retracts, and the third cable is the choke.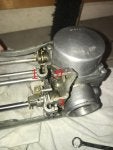 So if anyone could take the time to tell me which cable goes to which slot and the cable holds slot too I,ve numbered them.
For example "cable 1 goes to cable connect 2 and cable hold 3"
And where does the throttle cable go, when i connect it i feel it weird being so free back there. By the number three on the cable holds I've circled a small screw hole that I don't know know about. Is something supposed to go there to hold the choke cable?
Thanks for your time and patience, if this even makes sense.