Discussion Starter
•
#1
•
Hey yall, new to the forums here but hopefully i can get some good help and tips. ive got a 1984 gl500 silverwing interstate. dont worry, half the junk that comes on it is already off lol, but i know there are differences when compared to the cx's or non interstate gl's. (such as dual front disc brakes).
im looking for tips on lowering the suspension. the bike is just really wobbly on its kickstand which ive been told is normal for these bikes, but to me i just dont like it cus im a little more used to bigger and heavier cruisers also im trying to go for that bobber/fighter short and stocky look it doesnt help any that the bike sits tall or at least it appears to anyways. i dont want to sound too much like a noob but i am looking for the cheapest route possible as i dont care to put a whole bunch of money into this bike. im wondering if the stance can be lowered without swapping any suspension parts. i think i might leave the stock mono airshock in the rear, but i dont know about the air adjustable forks in the front. can they be raised at the triple tree, will lowering the air pressure decrease the hight of the front of the bike, or is it just easiest to swap out the forks for different ones? any help would be appreciated. after some new tires and a battery this spring ill only have maybe 800 in the bike.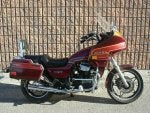 (note: this is not my bike, just one of the same model, ive been having trouble getting a picture of mine to upload.) ill see what i can do about raising the forks in the tree for now. i think the gl500 silverwing interstate sits higher than the cx500 (longer/taller forks). thanks in advanced for your help. i will try to get a pic of the actual bike up here.