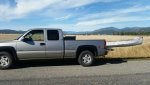 I left home with an old aluminum canoe and a Yamaha kids acoustic guitar and came home with a CX650E that had been a yard ornamant for ALOT of years. The owner kept refering to the bike as "HER" (Christine, lol?). No title and the bike hasn't had a plate in it in 26 years...and that was from B.C. (which I live south of by not too far)...I did find paperwork from the B.C. owner. I have verbal information on two other owners here in my county before the guy I got it from.
This is going to be an adventure in alot if ways. I am going to do a...(get ready here comes the punchline), low budget cafe built this winter with the goals of
1. Getting mechanically sound.
2. Cleaning it up with polish paint and fit.
3. Looks and character.
(Did I mention low budget :money: )
I will be staying pretty original (with the exception of NASTY sounding exhaust, retro looking tank, seat, bars, lights, fork boots, and low profile 2 up seat) as I want it to somewhat parallel the looks of my 69 CL90 I just got back on the road).
The last owner got it running 5 or so years ago. Said there was no smoke and ran strong other than dirty carb issues from sitting.
I am so excited I can hardly contain myself...probably due to the fact I haven't turned a wrench yet and haven't found the inevitable underlying issues, lol.