First Off My oil filter bolt was slightly messed up when I got the bike,
The package containing the adapter was packaged well with instructions, and a protective cover on the adapter.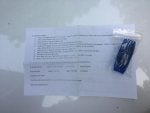 This is what it looks like with the filter and cover removed.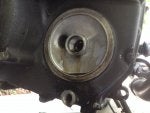 This is the adapter. See the small holes, these are used to tighten the adapter after it is installed. Make sure they are facing out and the shorter threaded side screws into the engine. Also make sure everything is clean and no burrs on the adapter, Mine was good to go.
I used a very small screwdriver to snug the adapter up. Do not over tighten this. Once the bump snugs against the engine it's tight.
This is how it's supposed to be, just snugged up.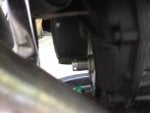 You will now be able to use a large automotive oil filter, the instructions that came with the adapter gives a list of filters that will fit, and I chose the Fram P9100 sure grip filter. Be sure to clean the mounting flange on the engine and dip your finger in clean engine oil and rub it on the ruber o ring on the filter before installing the new filter on the adapter.
Screw the filter on the adapter until the o ring touches the flange.
Then rotate the filter another quarter turn to insure a good fit and seal.
Time to add fresh oil, I added two and a half quarts of oil, turned the engine over for a while with the run switch turned to off, started the engine, let it run until the oil light went out, shut it off and checked the oil. I needed about another half quart. Checked for leaks, everything looks good.
Easy enough. Never have to worry about striping the original filter bolt again, and now can get a filter at any auto parts store. As a bonus a little extra oil in the engine and it has the benefit of cooling the engine oil more through the case of the filter.
Get one from Murray.
http://cx500forum.com/forum/selling-buying-forum/17489-purchasing-spin-adapters.html