Discussion Starter
·
#1
·
Howdy from Fort Worth! First time bike owner and rider (of the street variety, anyway). This looks like a great place to be, so I figure I would jump on...
I wound up getting a nice '79 CX500C from a buddy that moved out of state about four months ago. He was the original owner, so I have all of the service records from when the bike was new, a shop manual and a few extras along with it (fairing, trunk, etc.). He rode it on occasion, and it runs pretty well. It had set up for about six months prior to me getting my hands on it, so a little work is in order (that is half the fun, right!).
Since providing it a new home, I have put about 150 miles on it just riding around the neighborhood and making short runs here or there. Weather has been a limiting factor (yes, I am a wimpy fair weather rider) and I am getting adjusted to riding. There are some things that have to be addressed before going much beyond that (tune up, license, etc.), but those are topics for a later date. Until then, here it is...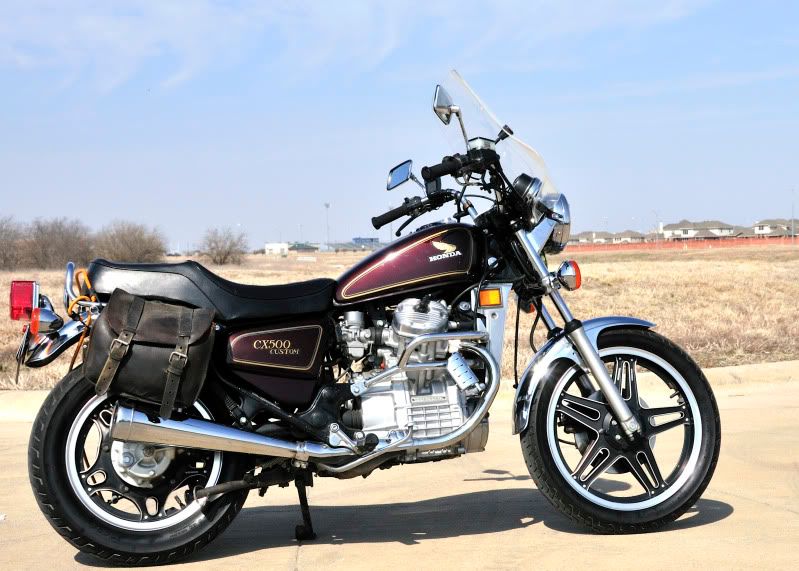 I must say that when I got the bike, I was not overly excited about having it. It was neat, but just a motorcycle. As time has past, my enthusiasm and attachment to the bike has grown. As I learn more about it and the history of the CX series, the more the character of the bike comes out and the more I like it. I am looking forward to getting some of the little things taken care of and getting some road time this spring.
So far, the work I have done on it is change all of the fluids and a general clean up. I have checked the important fasteners for tightness (front end, swing arm, engine mounts, etc.) and fixed a small electrical issue with the turn signals. The battery seemed to be struggling a bit when I got it, so I put it on a fancy electronic battery charger and let it recondition the battery. Seems to have done the trick so far (first sign of trouble and it is gone!).
On the horizon, the items that are on list for attention are the carbs, front brake, steering, and an overall general tune up. I am not planning on doing any customizing to it (outside of a possible paint job). At least for now...
Glad to to have found this group and am happy to be here!