Hello folks! I've just made a terrible, wonderful mistake. I'm buying a Craigslist CX500, 1981, with a pile of bodywork and a parts bike alongside.
Have I ever owned a motorcycle? Nope.
Have I ever ridden a motorcycle? Only on the back.
Do I even have a driver's license? Oh hell no! I bicycle everywhere!
Everyone laughing yet? Any heads shaking?
So WHY in the world do I think I can do this?
>I love to do things with my hands, and I'm pretty good at it.
>I have a garage to work in, and some of the tools it will require.
>I don't care if the rebuild takes 5 years.
>after working for years with Victorian homes in and around Sacramento, I am familiar with wood working, plumbing, wood rot, electrical, metal grinding, painting, wood rot, custom design, creative solutions, and wood rot. The CX500 is mostly made of wood, right? What?
> I am a friend of brilliant artist
Gale Hart
, and she's willing to teach me to weld. Seriously, check out her sculpture...this is not weak, artsy-welding. She's the real deal.
>I've been building up bicycles for years, including a Cannondale Super-V suspension bike with Marzocchi front fork, Fox rear shock, Magura hydraulic brakes, custom LED lighting front and rear, and a seat upholstered with brown leather from a friend's old jacket. Boy was he mad. Nah, he gave it to me. Honest.
Here's a progress shot from that build, it's been finished since but I haven't any current shot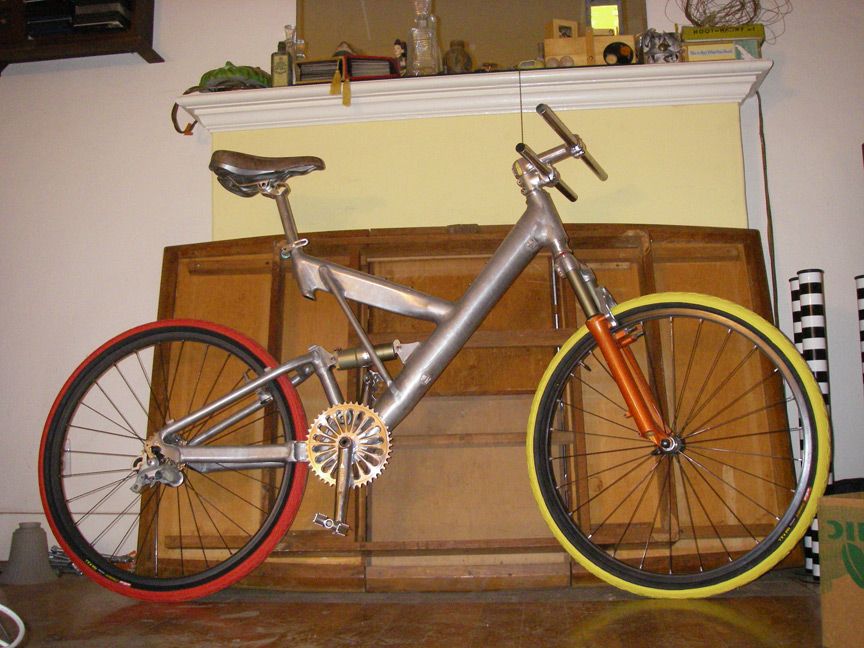 It's a strange and wonderful ride, and gets questions and comments everywhere I take it.
After discovering and devouring most of the
Silodrome blog
, and then reading huge lolloping chunks of this forum, I think I have fallen in love with the CX500.
I don't think it can honestly be called a beautiful bike, stock, but man does it have potential. I love the original modular wheels, the big lumpy brake housings, the shaft drive, the radiator. I think the engine is a thing of strange beauty. The rest of it, as this forum THOROUGHLY demonstrates, can become wondrous in whole, in part, and in detail. I can't wait to get started. I hope for plenty of help and advice along the way, and I thank you all in advance.
What do I want to do with the CX500?
Well, I have ideas, various, terrible and glorious.
>I'm thinking about clearing the frame behind the engine, and using it to house a custom storage locker, keyed to the bike.
>I'm thinking about a breathable seat inspired by Herman Miller's Aeron chair.
>I'm thinking about classic red jerrycans converted into removable panniers.
>I'm thinking about tiny, dual, wide-set LED front lighting, and creative ways of cleaning up the usual clutter of wires, hoses, lines, and instruments around the front.
>I'm thinking about suspension mods or fork replacements that let me keep the wheels.
>the electric-fan conversion seems wise and well. Murray's carbs seem like a fine touchstone.
>I'm thinking about all the colors and patterns that I love:
-one-to-one black and white stripes
-olive green and turquoise
-bright yellow and intense red
-rust
-aluminum
-nickel
-clear silicone
-bone
-stainless steel
-brass
-that calmly intense purple-blue that hovers between cobalt and violet
I have no idea what category the bike will fit into, and could care less. It will growl, rumble and purr. Unless the engines are both shot, then I'll just cry.
Bless me, I'm a fool.