Discussion Starter
·
#1
·
I suppose each of us has inadvertently in pulling the back cover off ended up stretching the gearshift spring. Well, there is a way of repairing a spring. It involves heat, compression, and fast cooling. Here is what I did.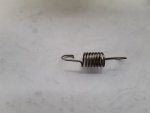 This is the gearshift spring I stretched out when I took the rear cover off.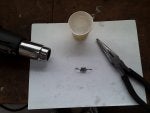 To repair the spring what I need was a cup of water to dip it in, a needle nose pliers to hold it, and a heat gun with two settings, HOT!, and HOT,HOT!
Using the needle nose, I compressed the spring down to the original length and heated it using the heat gun set on maximum, HOT,HOT! Let it heat up on both sides for about a minute or so. Could be slightly less, or more than a minute. Next I dipped the spring into the cup of what and then set it down. After drying it a little, I checked it out. If I still needed to, I used the needle nose to compress the spring a second time and reheated it. Then, when it was hot enough, dipped it in water. Usually compressing and heating it twice was all it took.
This is the repair gearshift spring ready to install. It does work. The only way heating and cooling it might not work is if the spring is broken. You might be able to bend it into the shape you need.