Discussion Starter
·
#1
·
Some of you are familiar with my gauges I did last winter. While they came out nice, they were useless in the dark as the decals were not transparent and didnt let light shine through. So, back to the drawing board. What do you get when you combine EL Neon String and gauges? something surely unique! So began the process.
I glued the neon wire into the metal ring as shown to hide it from view. the light will shine down onto the gauges.
To cut down on power consumption and extend the life of the components (the string shouldnt ever go bad, but the transformers probably will), I am going to hook the transformers up to a relay, and the relay will be actuated my a light-sensitive device so they only turn on in the dark and when the bike is on. I will also wire in a override switch to I can turn the stuff on for demo purposes. If this turns out well, i will probably add other green accent lighting on the bike in other places.
Here is what I started with
And here is the progress thus far. The tape is temporary while the glue dries, then the tape will be removed and that section will be Epoxied. (the rest is super-glued)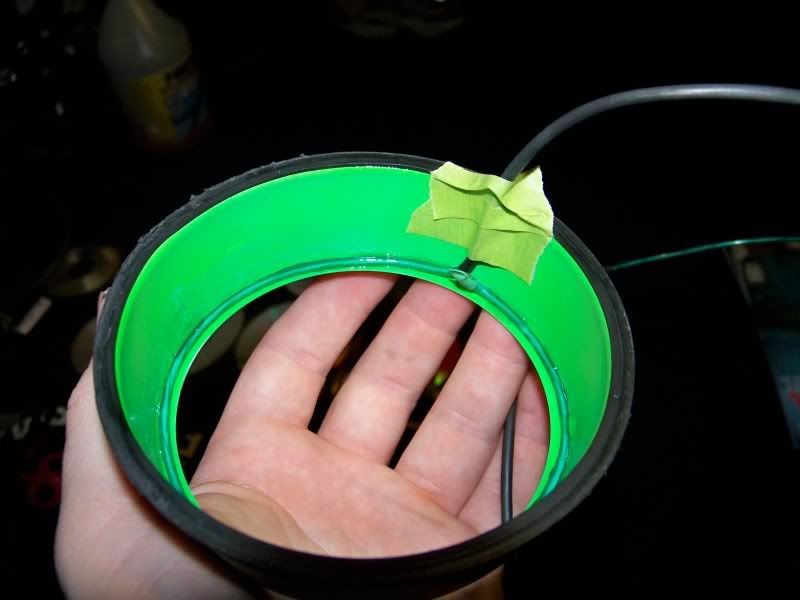 Here is a section of the string
And here it is lit up. because of the location, the light should shine down onto the plates, illuminating them with a neon green glow.
I will post more pics when I get the gauge re-assembled.