Discussion Starter
·
#1
·
Hello Everyone,
This is my first post and I figured I'd post this quick fix in case anybody else out there runs into the same problem. I bought a 79 CX500 Custom late last year as a first motorcycle. I love it. Here's a photo of her from last October-
After riding it for about a month I noticed a small amount of oil dripping from the front of the engine. It wasn't too bad but I wanted to fix it. (It's the smaller oil stain in above photo)
I've never worked on motorcycles before but I worked as a mechanic in bicycle shops for a couple years in high school. I'd say this repair was easy/medium on an easy-to-extremely-difficult scale.
First I removed the radiator and fan. To remove the fan I used a M14 x 1.5 bolt about 2 inches long and it worked perfectly. Here's what I saw-
You can't see it in the above photo but the camshaft oil seal wasn't sitting flush. It moved around very easily and I knew that it was the problem. Looked like this-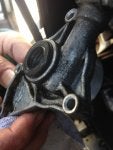 Found the parts list here:
Honda Motorcycle Parts 1981 CX500C A CAMSHAFT Diagram
I needed #14, the oil seal.
I also bought the necessary gaskets and o-rings.
Here's the new seal. You can see a circular metal spring inside the new seal. I'm guessing the old one just wore out after 30+ years of use.
Then I installed the new seal. It fit in securely and didn't move around like the old one, so I'm guessing my problems are solved. No oil leaks yet, fingers crossed.
Hope this helps somebody out there. I'm really glad this forum exists and psyched to be a new part of it!