Discussion Starter
·
#1
·
Hi my name is aaron im from Springfield, Missouri.
I just Traded my bow for a 1978 CX500, turns over but guy said it ran 3 months ago, its in very good shape. It has 15k on it. Im hoping to turn it into cafe racer. So far all i need is a new throttle tube and i have to coat the gas tank from rust. I was wondering if it was a good trade, my bow was worth around 300 dollars, i was unsure cause i could not drive it and if anyone has any first time pointers on working on them feel free to let me know before i mess it up.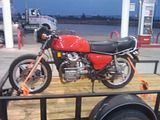 that should be a picture link of it hope it works. and thanks for your input.
Aaron