'84 CX650E that is evolving into a GL500
Eccles is the CX650E based winter machine that I drive to work every day in the winter. This is the latest pic I have of Eccles:
A few weeks ago, during yet another thread hijack
, I wondered if I should start a retroactive build thread for Eccles. Well here it is, going right back to the beginning, but first a bit of background for those of you who haven't been around that long or are old and forgetful like me.
Before Eccles I had a GL500 for 5 years but never got around to naming (there were several before that but this is really where Eccles' story starts). Over the years I did a lot of work on it and made a few changes. This is what it looked like at the end of its career: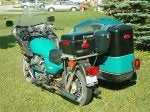 In 2005 I decided it was time for a change.I still wanted a mid sized, shaft drive Honda but i wanted something a bit newer in hopes that parts would be available for a bit longer. I ended up paying too much an '84 CB750SC Nighthawk. On my way home one evening the next spring it let out a mighty moan and stopped. It had thrown its camchain through the back of the cylinder block. Replacement engines, or even cylinder blocks, were impossible to find because, as one wrecker told me, every one they got in had the same problem as mine. It looked like this:
I needed a bike in a hurry and I wanted something that I didn't have to learn a whole lot of new stuff for. I also missed this forum (or at least whichever of its predecessors we were on back then). So I passed up a $900 CX650E around the corner because it was too nice for what I wanted to do to it. And besides, I really wanted a GL500/650 anyway. But they were going for around $1500 (to much for a winter machine) & when I changed my mind a week later the CX was gone. It was starting to look like I wouldn't find anything in time to get it ready. Then I saw an ad in a local online classified ads for a really cheap CX650E The seller sent me these pics:
To be continued....