Hello all,
Having recently obtained a dead 1983 GL650I I thought I would post some pictures of my findings and progress.
Seller did a lot of work to this bike prior to selling - battery,oil/filters/plugs all new.
I believed the seller to be honest and upfront with what he knew of the bike prior to purchase
GL650 interstate in Seattle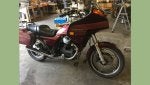 The bike started and ran just as seller described, I confirmed everything seller stated in add was correct, we / I did not run it long enough to heat up and temp gauge not registering was of no concern at that time. Unfortunately with a full fairing and gas tank in place checking the radiator/coolant level is a bit difficult, with no obvious external visual clues I did not look deeper.
I didn't try to ride it due to the dry-rotted tires. (Bike was brought home on a trailer)
At the time I "assumed" the poor idle to be carb related, I did not do a compression test even though I had a gauge with me. Lesson learned the hard way.
As I was stripping the bike down to drop engine, found there was no water in cooling system (why)
Compression test..L/H 110 (a little low).......R/H 30 yes 30 psi (double crap!!)
Do a leak down test on R/H Head ...Oh...Holds No pressure...Oh....air coming out of water pipe!!!
Obviously a b​lown head gasket Ok I'll pull the Head and take a look (Crap)
Major over heat problem, Cylinder wall has separated from cast water jacket, a .5 x .125 chunk of the water jacket has been burned / melted away with a radial crack extending 1.5 inches each way around water jacket.
Prior to pulling L/H head I checked the torque of the head bolts. 3 "turned" at 30 ftlbs the 4th at 35 ftlbs looks like aftermarket gaskets with only initial low end torque and no re-torque. LH also has blown gasket also but no other damage. Both heads came of without any effort and no surface bonding of the gaskets. Apparently a case of ham-fisted workmanship.
looks like I'm needing a 650-crank case.
So I have the engine out and on the work bench for total tear down.
And have found the source of the over heat problem. Another example of fine workmanship.
The acorn nut and copper washer are missing from the water pump impeller, the spacer washer behind is also missing, and almost all the drive splines have been stripped from the impeller.
Somehow the splines and threads on the end of the camshaft survived without to much damage.