Discussion Starter
·
#1
·
Hi, I bought a set of 5 inch risers off t'ebay so that I could get a better riding position and get my screen adjusted higher. For 30 dollars shipped to the UK I figured it was worth the risk. The problem is that my bars won't fit. Because the risers have to go on the outside of the fuse box/clamps it means they are placed wider than the flat portion of my bars meaning that the clamps on top of the risers can't be done up.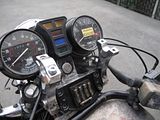 Anybody have any suggestions of ways round this?? I was thinking of maybe using longer bolts for the riser clamps but they obviously wouldn't be a good fit on the bars but may hold them? Any ways of using bigger/wider bore clamps and padding them where it's not good fit? I'm not sure about getting the risers machined out so that they will fit.
I could get some other bars with a wider flat portion in the middle but the idea of getting the risers was to avoid the extra expense and give me more ways to adjust height/pull back etc.
Any ideas would be great! Thanks, Jof