Discussion Starter
·
#1
·
After I did all my tire changing last year I must say I got pretty lucky because all I used was a prybar as a wedge and thin flat blade screwdriver as a bead breaker. Just wedge the prypbar and push in lightly and turn the screwdriver. Well David in Wisconsin gave me a cx650 tire with some pretty nice tread on it so I figured this morning why not break down the tire so I can use it. Prybar 1 said no, prybar 2 said no, the little screwdriver wondered what the hell I was doing. So I remembered back to when I did the tires the first time and all the guys on the smart and cheap seemed to think a c or g clamp was the way to go. So I just bought one. I used a piece of 1/4 inch plywood on the rim side and a 2 inch washer on the rubber side which allowed the c clamp wobble head to move around and in minutes the bead was broke. Flipped it around and did the same thing.
And the clamp only cost me $5. Not a great clamp but it did the job.
Here's a picture the Dex took a while back of a similar solution.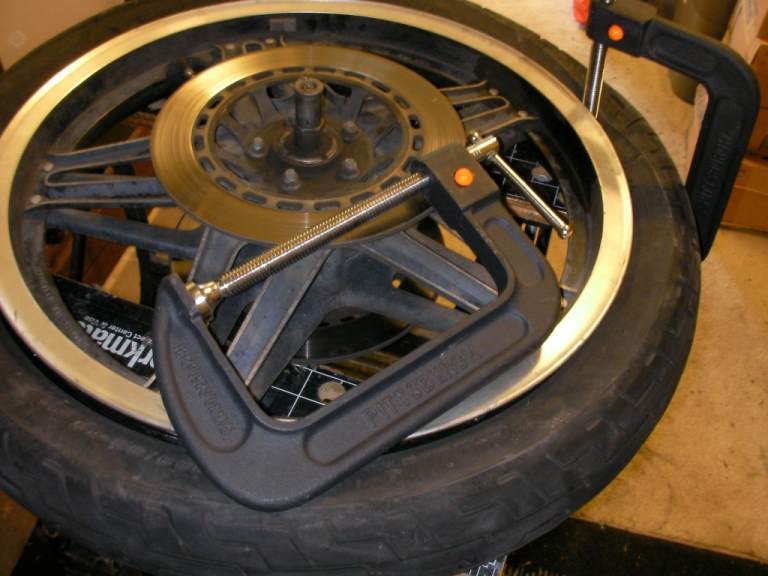 By the way I don't know if there is a right or wrong but I did mine with the clamp on the inside of the rim. Seemed more logical because it couldn't really pull away from the rim/tire if it was on the inside.
So thanks guys.