Finally had some time and installed the new mechanical seal using the engine in method. Just finished it, but will wait until tomorrow before I turn the engine.
Here are a few pictures.
Rubber boot separated from the new seal.
Cleaning out the inside of the old seal after removal of rubber boot. Used a small screw driver and a bit of scotch brite.
After final cleaning with brake cleaner - ready for rubber boot install.
Parts used including new trust and copper washer.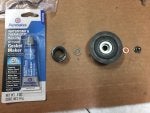 Boot installed.
It is all bolted back together, just haven't filled coolant yet.