Hi to all CX owners
to began with, my first bike was Honda GL500 which I got in 2014 for a reasonable money in a very good condition and with minor mods was quite good looking
later by the end of the season I decided that I need something more nimble and reliable for the next season, so I bought Honda Hornet PC41 2007 (nice bike, good suspension, very powerful, even more then I needed) in 2015 and sold GL for the same price as bought in 2014.
Here in Kiev the old CX500 models are not popular and people usually buy something less old, so it took me to sell it quite long but after selling it I realized that it was a wrong decision and that my passion about CX is more then just a first bike impression nostalgia,
so I asked my friend about his CX stored in the garage for few years, half working, without battery and with huge list of lost parts, if he could sell his CX to me... so my project started back in 2016.
I was inspired by Moto-Mucci blog and his approach to the low budget custom version of CX500, and I really loved the classy look of Dave's CX with the normal bars
(I don't like clubman bars, don't ask me why, just don't, clipons are ok and depend on the bike style, but classic bars with right hight are the best option for me).
So I decided to go via the same steps and finally got which has nothing in common except classic bars
not only of course.
there were a lot of things done about the engine at Honda official service = a lot of complains on their work (story for another thread), but a lot of good tech advises on the project too.
Nevertheless after almost 1.5 year of some preparations my engine was rebuilt, running with Ignitech unit (original cdi ignition was spoiled by service guys) and carbs were rebuilt too,
so improvements had to be done to the the front suspension (33mm fork was working very bad, even with 15w oil) and to the rear awkward frame/tail.
I bought an almost complete fork(without the wheel and rotors) from Honda Hornet 2002, wanted the classic look fork for my project (+have some fork boots stored for a next season maybe),
I didn't shoot the process of the fork swap but I can say that it was a bit problematic and I didn't expect that at the beginning
since according to my calculations there were no need to cut the axle at the beginning (I was wrong and that took me 2 weeks to solve since one of the threads on the axle is rare and I had to find the way to extend it correctly, so I began to look for an appropriate thread cutter and finally got one cheap).
so to short the story:
-seals were Ok, so I changed the oil and found some mods inside (spacers)
-added all balls bearings (3weeks of waiting from the US),
-5 spacers machined on lathe,
-original CX wheel axle
-and one specially fabricated nut.
so all the stuff allowed a hornet fork fit a stock cx wheel with original speedo.
wheel and brake mods:
Rotors are 320mm Kawasaki ZX with spacers to offset them 16mm, brake supports with brake line are stock hornet (or cbf 600 not sure) + machined spacers to offset supports onto 320mm rotors.
after the front was on the bike new headlight has been installed not that much bright but I like that small size, brackets were chip variant but when I cut them a bit they became to look much better.
the impression of the front after the swap WHAT A COMFORT))), and the brakes were superb now (I had 1 caliper and 1 rotor before).
mudguard is stock and fitted to the new fork
some pics are below
and new mufflers are nice looking for good price (custom made by someone from Bila Tserkva, Ukraine)
spacer for brake support
mudguard cut lines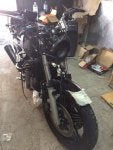 I can try to make some measurements if someone will ask for a detailed explanation of the spacers etc.
(but please consider that I'm not an engineer, and when I needed something done on the lathe I went to our local turner guy and draw him some simple drawings with a lot of explanations about what I need and how it should work after).
tomorrow will follow some pics about the rear/frame mods and new seat pan fabrication from aluminum sheet with storage space and stock helmet lock.
If someone will read this of course.
Have a nice evening.