Discussion Starter
•
#1
•
Hey everyone. New to the forum. Bought a 1978 CX500 last week and ran into a few problems this weekend that have me pretty bummed and searching for a place to start to get this machine roadworthy again. I'm going to be as detailed as possible about the situation in hoping one of you will spot any possible errors on my part.
I've owned a CB650 before this and a few CMs, but this is my first water cooled Honda. I've always loved these and have been on the search for a nice 78 and found this.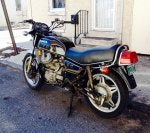 I read a few recommendations on this forum for preventative maintenance when buying a new CX and don't know where the problem may have developed.
Previous owner was a nice elderly guy I've known from the area who picked up this bike, cleaned the carbs, and flipped it for $1000 to me last week. 21k miles.
When I checked out the bike the oil was clean, the temp gauge was working, and it had a very slight coolant leak from the weep hole, a few drips on start up and then stopped completely. Lower coolant pipe got warm, no smoke, and ran and shifted through the gears and had no problem on a short highway ride. My plan was to ride it around for 100 miles or so, and if the weep hole leak didn't clear up, sort it out using the Shep Mech Seal Method.
This week it sat out front of my house, I started it up and took it around the neighborhood a few times but haven't gotten the chance to take it on a good ride yet. I took some time to pull and clean the easily accessible bullet connectors with some sandpaper, and check brakes and fluids. As it did have a small coolant leak, I pulled the tank so I could check the coolant level at the rad.
Radiator looked a bit low, so I let the bike idle with the cap off, and filled it with coolant. After the T-Stat opened and it dipped an inch or so, I topped it off and put the cap on, shut the bike off.
The next day it rains so I don't get a chance to ride.
Today, the temp gauge isn't working when I start up the bike, and I'm feeling the lower coolant hose and waiting for it to warm up. Take it around the block and still nothing on the gauge. After about 15 minutes, the coolant hose still feels like it hasn't heated up. Turn of the ignition, check the oil and holy mother of god it looks like thick coffee and I'm livid.
Did the mechanical seal completely fail in the 4 days I owned it? Head gasket? Did rainwater somehow find its way in to the coolant? Am I an idiot and didn't follow the proper procedure for topping off coolant at the radiator? Any help or a place to start to diagnose this is appreciated. I'd like to tackle it myself if possible.