Discussion Starter
·
#1
·
Hello,
My name is Niels aka Nelson, i am major student with a specialication in Internal Combustion Engines and i accidentely bought a bike....
Had the intention to just build it up cheaply to a nice cheacky cafe racer buth the project went his own way...
I bought a 1978 cx500 with 33000 original Km's, had been sitting for a long time and was running poorly when i got it.
tank was rusty that kind of thing, got the thing home to start stripping and rewelding the frame.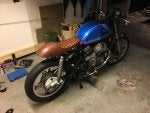 just a standard modification.
but then when i pulled appart the engine i fount out the left cilinder wasn't happy and probobly had run a bit to lean wich lead to a lot of damage in the cilinderhead from detonation.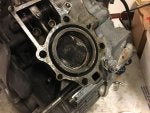 then i decided to use these heads as an experiment, port them out as much as possible,
with the goal to get about 65-70 hp at the crank.
the porting of the head wont be the only modification to get this number, also running a free almost straight true exhaust 2-2 system.
Upgrading the carbs from the old keihins to 36 mm dellorto's en probobly a ignitech system to advance the timing as much as possible.
yet another project. haha!