My filter had a family of mice in it. The only OEM filter I can find is on E-vil-bay for about $100 from Germany. I couldn't find any threads here about where to find these unique items.
I think I can use an auto filter and replace the element in the metal housing. I boiled the old filter in water to soften the glue and this is what I end up with after a bunch of scraping: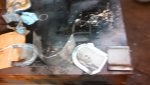 The glue seems like some kind of construction adhesive, except the glue holding the gasket in place seems like rubber cement. I may try hot glue or some kind of construction adhesive that seems right. Any suggestions appreciated.
I could go to PODS or similar, but I want to keep the OEM airbox. I do not understand why the CX series filter the air from the inside of the filter. That makes the filters more prone to clogging and more difficult to clean.
Any advice or suggestions on re-using the metal housing? Any way to modify the airbox to accept a standard auto filter type?
Thanks in advance to all.