Discussion Starter
·
#1
·
First time post!
I recently cut the second seat off my GL500 to make it a single seater. I have looked all over ebay to try and find something that works for the butt. I wanted to get a custom fender but not sure where to go, and whatever I find is over my budget. Any links or ideas on how to make it look less ghetto?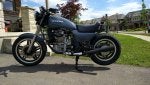 I had found some samples of other custom jobs. I just want to be able have a smooth transition from the seat, and enough room to place the licence plate, brake light, and signals lights. I particularly like the second picture. I am i asking for too much?
Was wondering if anyone had any better ideas
Thanks!