Discussion Starter
·
#1
·
@34nineteen asked me to help him modify his steering head dust shield spanner and lock nuts in the same manner that I fit a 2004-2007 CBR1000RR front end to my CX500.
The problem is when the new fork is mounted, there aren't enough threads to get the all the nuts back on due to the thicker taper roller bearings from All Balls Racing bearings. These bearings are needed to fit the CBR1000RR steering stem to the CX500 frame. If you don't do this modification you only get a few threads exposed for the steering stem nut and you can strip your steering stem threads.
Here are the dimensions of the spanner nuts before the mod and after the mod. For reference, you can see the steering stem nut is 9 mm thick and the washer below it is 2 mm. You could get a 1 mm washer to expose more thread but that wasn't necessary.
The spanner lock nut needs about 0.5mm shaved off of one side. There is chamfering on the inside of the threading where the thickness of the nut does not contribute to any threading. By removing one side it allowed the spanner lock nut to engage more threads on steering stem without reducing threads on the nut itself.
The dust shield spanner nut needs the old bearing gripping surface removed as seen below. Once that is gone the top part of the nut is shaved enough so that the locking spanner nut can grip 100% of the remaining threads on the steering stem. You can see the old gripping surface below. Since the dust cover has a radius, part of it is removed to make it flat for the new wider bearing.
Here is how the thickness of the dust shield spanner nut is referenced:
I used a lathe to cut these parts down. The dust shield was bent on the part so it was hard to get the top level.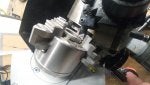 After the parts were cut down I did a trial fitment with @34nineteen 's new cut parts and my CX500 w/1000RR front end. First the dust shield goes on and we have a bunch of threads now for the locking spanner nut
Now the locknig spanner nut. It's hard to see but the last thread on the stem can be seen peeking out of the inside of the top locking spanner nut. We have 100% engagement of the remaining steering stem threads. The top locking nut gets 3 full rotations until it is secure.
And finally, the top unmodified steering stem nut and washer get 100% thread engagement