Discussion Starter
•
#421
•
Finished up painting the license plate holder/rear fender today. Took a bit longer than I thought, plus I had some assignments to do so that's all that got done today.
Masked off the tubing and bottom section and gave the fender section a coat of primer then a coat of flat black to match the front fender:
After that had dried I masked off the fender portion and painted the tubes and bottom section with primer and then gloss black to match the rest of the frame:
And the final product is all done. Turned out pretty good with the paint on it and I am quite pleased with how both types of black fit together:
Painted the license plate bracket too:
With the plate mounted and the lights on it looks really nice. I will see what it looks like mounted on the bike next chance I get.
I had also purchased a can of red Plasti-dip a while ago and got the chance to paint the springs yesterday. Even though they look a bit pink in the pictures, in real life they are a nice semi-gloss red:
Mounted on the dampers they look pretty slick and should match the rest of the bike pretty good. If I find they are too much when it's all done then I will just peel off the plasti-dip and keep them black.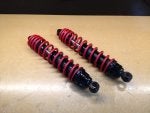 Going to mount the dampers by themselves one last time on the bike to make sure I have the clearance all sorted out, then I will mount the springs onto the dampers.