Discussion Starter
·
#1
·
Hello everyone,
I was gifted a 1980 CX500 Custom for my birthday in 2012, It is my first bike, but i love it already! I never planned on doing much to it, but then I joined this forum and everything changed!
Plans:
-Triple bypass
-GL1000 wheel conversion
-Rear disk conversion (drilled rotor)
-GL1000 fork conversion
-Dual front disk/caliper rebuild (drilled rotors)
-Deluxe tank conversion
-Dual headlight
-Ignitech and G8 stator conversion
-E-Fan conversion
-CBR rear sets
-New shift linkage
-Hard mount the saddle bags to the frame
-Re-position rear shocks
-Paint engine black
-Valve covers, cluch cover, radiator shroud, intake manifolds, and final drive will all be polished
-Make a new seat and cover
-Simplify wiring and controls
-Clubman bars
-Rebuild and Re-jet the carbs (polish tops and float bowls, but paint bodies black)
-New silencers
-Add crash bars
Most of the parts I've accrued up to this point.
The bike had one owner before me, but he didn't ride it much as there was only 9,236 miles on the clock, so I figured it would be a solid commuter.
This is the day I brought it home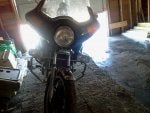 I first got rid of the fairing, but I didn't have a headlight, so I removed the one from the fairing and zip-tied it to the forks! Lol!
The seat height was a little on the high side, so I made one to get me through the summer, I also lowered the forks and rear shocks to fit me a bit better
Then I got my Buell X1 Lightning, also for free! So I then made the decision to start my build and began the tear down.
Started getting cold hear in North Dakota, so I built a small work bench for my basement and brought the engine down there to disassemble.
Started to open it up and found a bit of a surprise!
But the rest of the inside looked good