Discussion Starter
•
#1
•
Easter extra long weekend in Australia. Was yours as good as mine?
I picked up a mate Saturday morning and went down 4 hours drive to Australia's capital, Canberra, to pick up a 1983 CX650 E.
That's me mate preparing for the big ride. (that's how we speak in these parts)
Got home late on Saturday so I parked it and started to think..............
THE HISTORY
PO bought it back in 2010 form someone in South Australia. Used it as a daily ride for 4 years, had an accident, and garaged it the last 4 years.
The bike has 21,000 Km on the clock, the rear plastic is cracked, tank has a dent, and left mirror missing.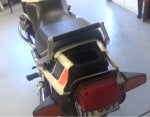 On the positive, bike was garaged by a bike caring PO, he gave me 3 new oil filters with rubbers, and a genuine spark plug spanner, as well as several bits and pieces. He also gave me all the historical paperwork and even an article from "Two Wheels" magazine from 1983. Ah, and it was a very good price.
The only rust I can see is in the frame near the left front tank mount, but just surface stuff, and the engine hangers, but they look pretty chunky and should not be a problem (me thinks).
I started the CX500 (
Build..... or Crucefixion
) rather poorly. I tore it down before I had a chance to ride it, with the sole intent of building a Cafe racer. I was left with the mystery of what these bikes are like to ride. So I decided that this one would start life differently. With the 500 is the progression bin, I wanted a bike I can ride for now. So I came up with a plan......Just get it running and ride it, then decide WHAT?
I have been reading posts for some time now on this forum, and the advice to newbies keeps repeating, so I gathered all the knowledge, and combined it with JC's excellent
Motofaction
, and proceeded to prepare the bike for it's first start. The PO told me that it is a starter, but I didn't try it out. Instead, I went through the methods described here and in Motofaction.
Here's it comes ( I'll have some questions at the end and along the way)