CX650 motor project into a CX500 Turbo Frame - ongoing
Discussion Starter
·
#1
·
I've read the instructions on inspecting and replacing the chain when the hole in the tensioner is showing and motofaction's numbers put the length at 21.5mm or 0.850 to the hole. I came across a forum post of a member replacing his because he measured about 0.850 between the guide and the tensioner and you can see the hole. Mine is at 0.810 but is not quite at the hole yet. That users showed that the new chain put his tensioner to guide at about 0.6.
My donor bike and motor shows 9k on odometer, but I'm guessing the latter part of this motor's life as having been rather rough. Doing some rough math that means that my chain is 70% stretched? Which doesn't make sense if it's only 9k on motor and people expect them to last 30-40k miles. Maybe my cam chain had a rough life? Bad oil/flow etc. Too many cold starts followed by heavy driving...who knows.
My question is should I just roll with this cam chain or is it worthwhile swapping out? And is my opinion that it's towards the end of its life correct? I'm tired and maybe not thinking great. Chain alone is just $60 or so and I for sure don't want to be in this engine again in 10k miles. It'd seem worthwhile to do.
The post I reference: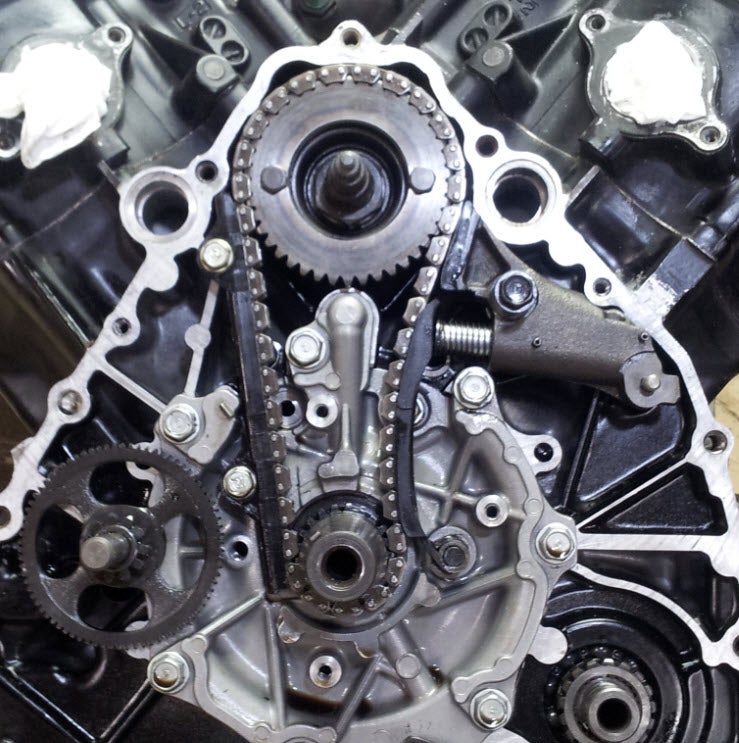 I could not find anything on the cx650 cam chain tensioner in the quick reference list, So I thought I'd create this thread for future reference. Below is a picture of the engine with rear case off. The chain is at the end of its life. The tensioner is all the way out and there is not any slack...
www.cx500forum.com
His cam chain:
Mine, no hole but it's just to the inside of the tensioner body