Discussion Starter
·
#1
·
After replacing an old front tyre for a sticky new Bridgestone S11 at a local fitment shop, I thought I'd take the long road home and try to bed in the tyres a bit - about 5 km from home I suddenly felt that the front brakes were not working properly ... and looked down to find this! :hororr: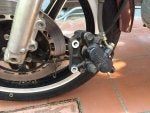 Note to self:
always check the work that anyone else does on your bike.
The shop had forgotten to tighten the brake caliper bolts onto the front fork and the bolts had disappeared along with my limited stopping power. I've never been a huge fan of the front brake performance on my Silverwing, but this was definitely a noticeable change!
So I've now bled and removed the caliper - I thought I'd do a bit of a service on the front brake while it is just hanging there - one of the pistons looked to be moving a bit less than the other, but I was wondering if anyone can please advise as to what bolts and fittings I now need to try and track down, so I can re-attach the caliper securely and hopefully not repeat the same experience again - I've got nothing to reference and none of the local bike shops here would stock parts for an 80's bike. Are they a specialist type or can I track them down at a hardware store? Any advice greatly appreciated. :notworthy: