Ok first thing, while I live and study in London, my parent's have the pleasure of hosting this dirty old thing in their garage in guildford, which is 20 miles south but still pretty close, and will proudly parade the streets of London when completed!
I took a real gamble buying her - an ebay punt. the seller never responded to my questions and I couldn't even see her before the auction ended. So all I had were some photos and a description of of her condition. Non runner but turns over, complete, no battery but electrics work, binding brakes, gummed up carbs, decent tyres, running until 2013, not even any paperwork (V5)! The indicated mileage however was only 20,000, but there's no way of telling if this was true. After a low bid, I'd won at £640. Pretty cheap if it turns out to be ok. Here are some photos from ebay: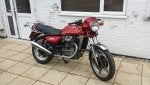 At least it looked reasonable from the photos. The chrome seemed ok, not too much corrosion on the frame and there were tread in the tyres.
My vision for this bike is along the lines of the photo below as a guide, however I think it imperative to make it my own and not just a copy of someone else's. I will be using more chrome, different silencers a anthracite wheels and a strap across the tank to give it a unique personal touch.
In keeping a bit of a British theme, I want this bike in British racing green with white stripes, as often used for two other popular old English classics the Rover Mini Cooper and the AC Cobra: