Discussion Starter
·
#1
·
I pulled the tarp off the GL500I today. Starting the process of getting it road worthy. I picked this bike up about 2 years ago, it had last been on the road in 1985. I bought it from an estate, it had belonged to a guy who bought it new, rode it for 3 years prepping for his police motorcycle test, and parked it the day he became a motorcycle cop. I took out a 2nd mortgage to buy a couple of gallons of gasoline, checked oil and hooked up battery booster.....it started, quietest twisted twin I've ever heard, idles like a champ, mechanical seal is leaking.
Enough back ground, here is what I found hanging in the fairing:
Are these original wires, or are they wiring for the emergency lights, siren and CB the bike evidently had as some point?
The buckhorn handle bars as they are is not an option for me, I hate them. The handle bars are the main reasons I haven't put this on the road before. Has anyone adjusted the existing handle bars by rotating them forward? It looks like they might be bearable if rotated until the brake reservoir is level? Or, I would appreciate any BTDT with replacement bars. I was thinking of using '78 CX bars, but it looks like they may come up short.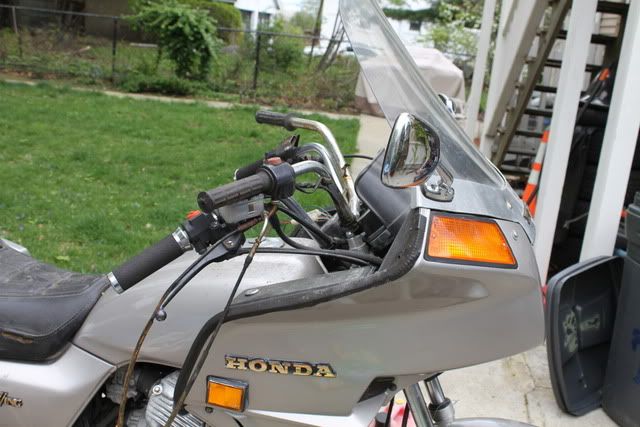 As Columbo would say: "One last thing." Didn't the tank, fairing ect. come from Honda with the pin striping? I checked carefully, and I can't see any signs this things ever been painted. Did some come without the decals/pin stripes?
No pin striping anywhere.