Discussion Starter
·
#1
·
Hi everyone,
my name is Jake, and I have a 1982 Honda GL500.
I bought it last year as my first bike and rode it a bit before completely restoring it this year. I did a ground up restoration over the course of nine months starting January 2015.
A bit more about myself-I'm 22 and currently living in Asheville, North Carolina. I just moved here a few months ago. I did the entire restoration at my mom's house in Rhode Island, where I lived my whole life. I moved here to ride with a friend I grew up with, who has (had!!! more on that later) a 79 CX500, which he bought after riding my GL. I also moved here to be a machinist, which is what I am doing now.
I've got so many photos and a crazy story to share with y'all. But first, here's a pic of the bike when I bought it.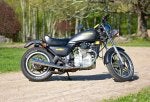 The bike ran ok, was kinda dirty, but all in all a good deal for $1200. Had no VISIBLE issues besides being dirty. I found many later.
I had actually never ridden a bike until I brought this thing home, but when I did, I was hooked.
The bike used to be a naked GL500 with the purple/red paint. The previous owner did a few mods (rear fender, bars, and flat black/yellow accent paint) which I thought was a good start but not really what I was looking for. So after riding it last fall I decided to tear it down as a winter project and rebuild the whole damn thing.
If only I knew what I was getting myself into!!!!!
So before I get into this, I just want to give a shout out to a few select people, and to this forum as a whole. I was a lurker for the entire year and found most of the information I needed for this project available on this forum.
Thanks to MurrayF, Joel in the Couve, Blindstitch, Shep, DaveF, LRCXd, and many others who gave me valuable information and inspiration. My work has been inspired especially by LRCXd's full restorations with his perfect attention to detail, and DaveF's travels which have inspired me to take a cross country trip on my new bike. Shout out to Murray for always having the answers.
Also just wanted to list the places where I've found parts, tools, and other information.
In no particular order as I'm just pulling these names out of my giant box of receipts.
David Silver Spares for many OEM parts
Dime City Cycles for cosmetic upgrades, switches, brake lines.
Harbor Freight Tools for most of my tools.
Rusty Riders for cables
Parts N More has some good OEM
CBX Performance has the GL500 rear mono shock seal (yes they do and it works!)
Amazon (lol)
Ebay- CaferacerX has cool stuff
Randakk's Cycle Shack for the awesome carb rebuild kit and the book was super helpful and worth it.
My local hardware store (I spent $500 in fasteners and tools there for this project)
I learned a lot. Also I spent a lot. I was only planning to spend $1000, but I spent about $3000 on parts and tools after it was all said and done. (I'm broke as fuck now)
It was supposed to be a 3 month project, but it took nine months!!!!! I should have known that, considering you're supposed to double the amount of time it takes to do anything!
This bike represents a lot of hard work for me, and also a lot of stress. This bike ruined my relationship with my girlfriend of 5 years!! This bike took all the money I had! This bike ruined my social life! This bike gave me headaches and back pain and made me into an asshole! I'd not recommend doing a full restoration if you have a deadline!
More on all that later.
Here's how I'm gonna do this thread.
I'm gonna start from the beginning, and not show you the completed bike until the end. I want you to appreciate the hard work I put in to this, and also follow along with my (hopefully) interesting story. That's how Larry posted his stuff so that's how I'm gonna do it.
It's gonna take a few weeks to get this all down, as I need to get all the pics together. I have a shared iCloud photo album with my friend that I updated while I did the work, and I will need to get it on here. Also I'm going to treat this as a reflective journal sort of thing, and get all my thoughts down about this project while telling you my story.
I currently work 3-11 so I'll probably be posting late at night. Don't be afraid to bug me about posting because I need to get this all out of my system!
Here we go....
Here's my buddy Dean, who will be in this story a lot. This is my other Honda (98 Civic) and my sketchy towing rig.
Here's the dude I bought it from, and the last time he had his hands on those bars...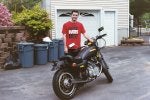 Bringing the bike home. Sketchy trailer!!!! More on that later!!!!!
At my beautiful house.
On the road.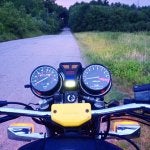 Rhode Island is beautiful.
I'm gonna leave y'all with this tonight.
Next post I will start at the beginning of the restoration which started on January 22, 2015.
Cheers
Jake