A little late to start a build thread a month or 2 into my build. But lets get upto speed. The bike came home Dec 2nd 2017.
It's an 82 GL500 with seemingly low miles (19k~20k) I say this lightly as I found the speedometer cable attachment nut on the cable itself was broken and the cable was glued and taped in.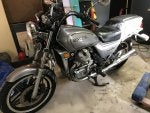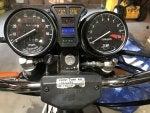 That's how she looked when I got her. Now I Wanted to get a CX500 but couldn't find one local on the cheap that was still running. Not that I don't think I could get a bike running I haven't worked on a bike or car in 15 years and It wasn't worth the risk. I settled for the GL and am very happy so far. I'm actually liking the setup of the monoshock and slight increase in rake as well as the upgraded ignition. We will see how this goes.