If you need a set of new tires and want to save some money on your purchase, take a look at an extensive catalog of Bridgestone tires at MOTORCYCLEiD.com. Right now, you can get a pair of qualifying tires listed in our catalog and get up to a $50 Visa Prepaid Card! Do not hesitate! This exclusive offer expires on November 30, 2021. Please fill in the following
PDF
form to get your card.
Bridgestone Tires are well-known among riders for delivering great overall performance, including excellent handling, stability, mileage, and overall comfort. These are the reasons Bridgestone tires are considered to be some of the best in the industry. No matter what type of bike you own and how you ride it, you can be sure to find the best set for your machine in our store.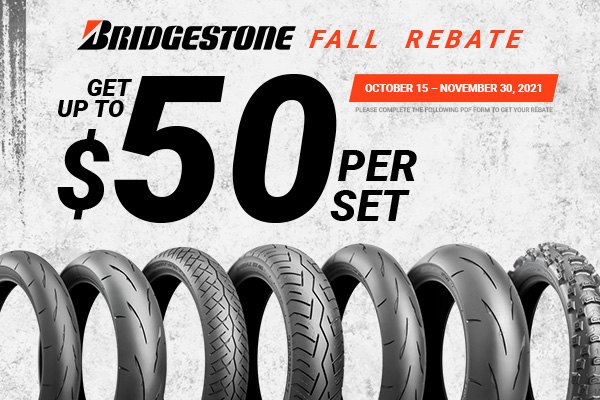 To browse the full catalog of Bridgestone tires, click the "Shop Now" button below:

Give our sales team a call at 888.903.4344 (Toll Free) or 1.732.867.9995 (International) and we'll gladly answer all your questions.​